What are we doing this Earth Day?
An insight into ecological and environmental initiatives in our Build To Rent communities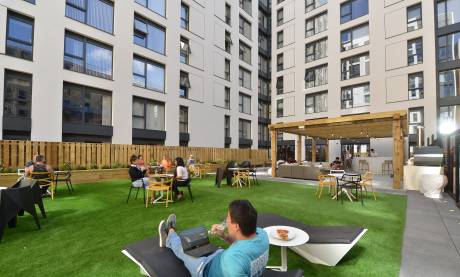 ​The Earth faces more and more threats year on year, including climate change, pollution, and deforestation. While global initiatives which seek to preserve our world are increasing, as a company we want to focus more on how we can increase our activity and how we encourage our customers to aid us.
Earth Day on 22nd April is now an annual event that strives for positive change, to inspire individuals, communities, and businesses all over the world to act and help preserve the planet. By taking part in various activities, we want to make our world a happier, healthier place to live.
We asked our Build To Rent teams about the contribution that our homes have made via ecological and environmental initiatives. Some include the benefits of gardens and green spaces, to wildlife habitation installations.
What are we doing?
All our Build To Rent schemes have communal gardens and green areas, which create an ecosystem for local wildlife, help to clean the air, reduces our carbon footprint, and helps to positively promote the sustainable culture which we are creating within our homes, as well as being an inviting area for our residents.
Earth day is about sharing the impact to people's health, access to food and water, safety, and livelihoods, when we take time to think about the consequences of our actions and the damaging effects happening to our environment.
At Howard Court, our Build To Rent community in High Wycombe, we have installed a Green Wall and Green Roof. These are able to reduce water run-off issues, and improve storm water management, insulate the building, provide habitats for wildlife, contribute to the improvement of urban air quality, and cool the urban environment, all while being great to look at.
What can you do?
Each year, around 1 billion people celebrate Earth Day to protect our planet and become more environmentally conscious. Here are some great ways to take part from your own home:
Think, reduce, reuse, and recycle
It is so easy to throw things away, so let's think about whether we can recycle or repurpose. Limit your waste by reducing the number of items that you are buying.
Turn off your lights when you are not using them
Now that the sun is setting later, we can make some of those extra lamps redundant.
According to the National Geographic Society, less than 1% of all water on earth can be used by humans. If you turn off the tap while you are brushing your teeth, this could save up to 8 gallons of water a day!
Help us to spread the word and make a difference!
Click here to find out more about our approach to environmental sustainability.